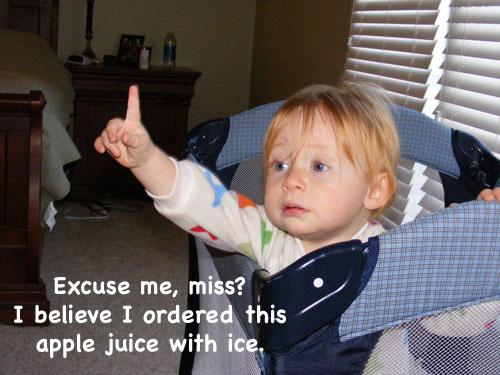 ---
This is my friend Mandy's youngest, home sick last Friday. She's fun to caption :)
So yesterday (meaning Saturday) evening, we went out to dinner at Red Lobster with a friend from high school who I hadn't seen in four or five years I think. I had an absolutely great time, ate too much, came home and wrote a little, then went to bed.
This morning, we got up relatively early (for us), so that we could go out to lunch with a friend from elementary school who I haven't seen since June of 2004and her family. Once again I had a ball, and look forward to seeing them again in less than 17 months this time.
Around this, I talked to my folks a couple of times, and was invited out to eat twice by a friend who I see on a regular basis (she's local). Also did some light shopping and watched the football game and spent five hours filing. (I was a little behind.)
My back is killing me, my sinuses are all screwed up (my fault), and I have eaten waaay too many things over the past two days that contain bell peppers, which apparently now that I'm almost 30, have decided they need to kill me. Despite all that and a tendency to overcaffeinate, I'm really, really happy right now.
I hope you are too.
Replaced the mailbox. Dug out the hydrangea bush. Built up the brick wall around the garden to keep wonder-dog out. Cleaned the kitchen (except the floor) and ran the dishwasher twice. Paid all the bills through mid-October, posted a comic into the archive, and started the processes necessary to replace the thermostat on the heater. Completed three loads of laundry.
Didn't have a lot of down time. I have a three-day weekend at the other end of this week, though, so maybe I'll finally get some rest then. I was supposed to go to the Boston-ish area next weekend to see my friend Mandine and her family, but Nighthawk's not feeling all that great and it's a long drive both there and back, so I had to cancel.
Anyway, it's almost Monday and I'm still running laundry. Work will be theoretically quieter this week, so maybe I won't be quite as exhausted. Here's hoping.